Tech & Service of Seamless pipe
Date:
2019-04-09
View(s):
3874
Tag:
Tech & Service of Seamless pipe
Seamless pipes are extensively applied for the nuclear device, gas, petrochemical, ship building and boiler industries. Seamless pipes dominates 65% of market share in Chinese boiler industry.
How to make seamless pipe(seamless pipe process)?
Piercing process
The cross roll piercing and pilger rolling process in the size range from approx. 250 to 660 mm outside diameter.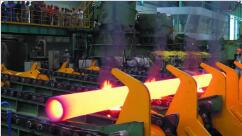 Pipe weld cracks
often follow different mechanisms can be divided into two types of thermal cracking and cold cracking.
Calculate a steel pipe?
Pipe fittings are necessary to join together pipes, or to change the direction of an existing pipe.
Pipe beveling
Pipe beveling is the process where an angle is formed between the edge of the end of a pipe or tube and a plane perpendicular to the surface.
Pipe cutting
Cutting tools have a grinding wheel piece cutting machine (also known as toothless saw), hand saw, cutter and other hand tools.
Packing the steel pipes
There are probably hundreds of different methods for
packing a pipe
, and most of them have merit, but there are two principles that are vital for any method.